Service Department Customer Information: Jacksonville University Blvd
Welcome to the Tom Nehl Service Department at Jacksonville, University Blvd
A few important things for you to know:
We test drive most repairs. Please log out of your electronic logbook device.
Please remove any food items from your refrigerator if your truck will be here overnight or longer. We are not responsible for spoiled food.
There can be up to an hour between the time your truck is completed and the time when your bill is prepared due to documenting repairs and paperwork.
Free customer wi-fi network is called "TomNehlCustomers". No password is required.
WHERE TO FIND VENDING MACHINES, RESTROOMS, & SMOKING AREA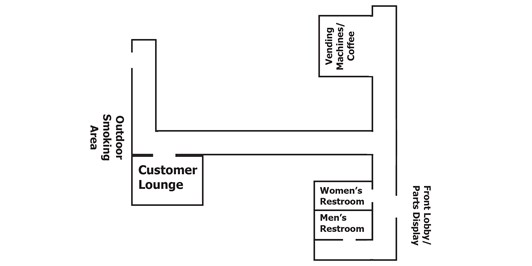 OTHER TOM NEHL DEPARTMENTS
Parts Department
904.861.0780
M-F 7am-5pm,
Sat 8am-noon
Sunday closed
Body Shop
417 Edgewood Ave.
904.389.3653
M-F 7am-5pm
Used Trucks
SelecTrucks of Jacksonville
480 Edgewood Ave. S.
904.861.0740
M-F 8am-5pm,
Sat by appt
New Trucks
417 Edgewood Ave. S.
904.389.3653
M-F 8am-5pm
Leasing
480 Edgewood Ave. S
904.389.3653 x1310
M-F 8am-5pm
NEARBY RESTAURANTS
McDonalds
3750 University Blvd. W
Open 24/7
Burger King
4948 University Blvd. W.
6am-12am
Dunkin Doughnuts
5150 University Blvd. W
5am-10pm
Wendy's
3910 University Blvd. W
10am-2am
Chick-Fil-A
3814 University Blvd. W
6am-10pm
Taco Bell
5151 University Blvd W.
11am-3am
Wawa
5735 Philips Hwy
(Behind Burger King)
24 hrs
KFC
3930 University Blvd. W.
10:30am-12am
RECOMMENDED HOTELS
***Right Next Door!***
SureStay by Best Western
5018 University Blvd. W.
904.731.0800
Econo Lodge
5624 Cagle Rd.
904.737.8000
Quality Inn
8333 Dix Ellis Trail
904.739.1155
Townplace Suites
4801 Lenoir Ave
904.296.1661
TRANSPORTATION
Taxi Services:
ZTrip: 904.222.2222


Bus Services:
Greyhound Bus Station: 904.356.9976
Jacksonville Transportation Authority: 904.630.3100
Car Rentals
Enterprise Rent-A-Car
8341 Atlantic Blvd.
904.727.7604
7:30am-6pm
Penske Truck Rental
814 Picketville Rd.
904.693.3700
7am-6pm
Avis Rent-A-Car
6945 Philips Hwy
904.281.2112
7:30am-6pm
OTHER TOM NEHL LOCATIONS
Jacksonville
417 Edgewood Ave. S.
904.389.3653
M-F 6am-8pm, Sat 6am-3pm
Sunday closed
Lake City
383 SW Arrowhead Terr.
386.755.9527
M-F 7am-5pm (service) 6pm (parts)
Sat 8am-noon (parts only)
Sunday closed
Waycross
708 Francis St.
912.283.7473
M-F 8am-5pm,
Sat 8am-noon (parts only)
Sunday closed