Service Department Customer Information: Jacksonville Edgewood Ave
Welcome to the Tom Nehl Service Department 
at Jacksonville, Edgewood Ave
A few important things for you to know:
We test drive most repairs. Please log out of your electronic logbook device.
Please remove any food items from your refrigerator if your truck will be here overnight or longer. We are not responsible for spoiled food.
There can be up to an hour between the time your truck is completed and the time when your bill is prepared due to documenting repairs and paperwork.
There are showers in the drivers' lounge available for your use.
Free customer wi-fi network is called "TomNehlCustomers". No password is required.
Ask us about free hotel
shuttle service.
Did we do a great job? Leave us a review!
WHERE ARE THE VENDING MACHINES?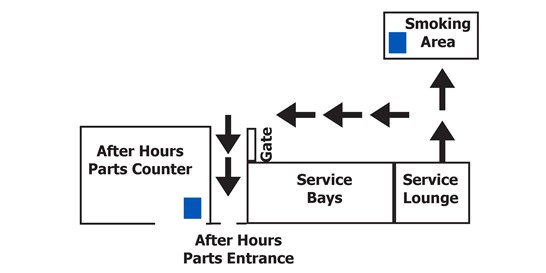 OTHER TOM NEHL JACKSONVILLE DEPARTMENTS
Parts Department
904.388.5443
M-F 6am-8pm,
Sat 6am-3pm
Sunday closed
Used Trucks
SelecTrucks of Jacksonville
480 Edgewood Ave. S.
904.861.0740
M-F 8am-5pm,
Sat by appt
Leasing
480 Edgewood Ave. S
904.389.3653 x1310
M-F 8am-5pm
Body Shop
904.389.3653
M-F 7am-5pm
New Trucks
417 Edgewood Ave. S.
904.389.3653
M-F 8am-5pm
 
RECOMMENDED NEARBY RESTAURANTS
Delivery available:
MJ's Pizza and Grille
445 Stockton St.
904.329.3231
10:30am - 9pm
Stan's Sandwich Shop
946 Lane Ave. N.
904.781.5794
6am-3pm
Walking Distance:
Monroe's BBQ
4838 Hwy Ave.
904.389.5551
11am-3pm
Kitchen Kettle Deli
4251 Lenox Ave.
904.387.8400
10am-2pm
Gina's Deli
803 Edgewood Ave.
904.388.4975
7am-4pm
McDonalds
454 Cassat Ave
904.781.1197
open 24/7
Many local restaurants are also on Uber Eats and Grub Hub.
RECOMMENDED HOTELS
*** Sleep Inn & Suites ***
6535 Ramona Blvd.
904.378.9779
Quality Inn & Suites
6802 Commonwealth Ave.
904.781.6000
Jax Inn
460 Lane Ave. S.
904.394.4500
Pets allowed
TRUCK & TRAILER PARKING
APM Hotel & Suites
510 Lane Ave. S.
904.394.4500
$10/Day 20 spaces
Dee Way Towing & Storage
100 Jackson Ave. S
904.356.3929
Call for availability & rates, varies.
S&S Truck Repair
130 Lane Ave. N.
904.503.1111
$20/Day 15 spaces
M-F 8-5, every other Sat
TRANSPORTATION
Taxi Services
ZTrip: 904.222.2222
Bus Services
Greyhound Bus Station: 904.356.9976
Jacksonville Transportation Authority: 904.630.3100
Car Rentals
Enterprise Rent-A-Car
1430 Cassat Ave.
904.387.3231
8am-5pm
OTHER TOM NEHL LOCATIONS
Jacksonville South
5040 University Blvd. W.
904.861.0779
M-F 7am-5pm, Sat 8am-noon (Sat parts only)
Sunday closed
Lake City
383 SW Arrowhead Terr.
386.755.9527
M-F 7am-5pm (service) 6pm (parts)
Sat 8am-noon (parts only)
Sunday closed
Waycross
708 Francis St.
912.283.7473
M-F 8am-5pm,
Sat 8am-noon (parts only)
Sunday closed